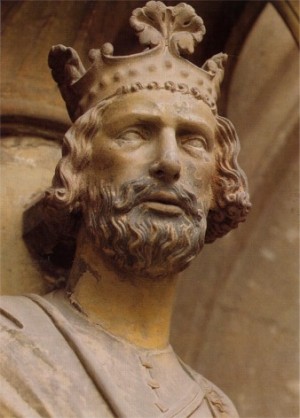 It's a pretty rare thing when Kings become saints, or at least become canonized saints. I can only think of a handful off the top of my head, though I'm sure there are more: Saint Louis IX of France, Saint Edward the Confessor of Anglo-Saxon England, Saint Stephen of Hungary.
Today is the memorial of the only Western Emperor Saint of which I'm aware: Saint Heinrich II, Duke of Bavaria, King of Germany, Holy Roman Emperor1. In English, he is sometimes called "Henry".
He lived near the start of the high middle ages (my favourite period), from 6 May 972 to 13 July 1024.
His cousin, Otto III, was Emperor before him. In 1002, Heinrich was at the head of an army marching into Italy to support his cousin against various rebel Lombard warlords, when he heard the news of the young emperor's death.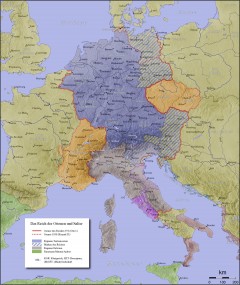 Heinrich rescued Otto's isolated court in Ravenna, dispersing rebels and bandits as he went. He then turned his army around, recrossed the alps, and with the help of the powerful Archbishop of Mainz secured his claim to the German throne.
He was ultimately crowned Emperor by Pope Benedict VIII in Rome in 1014.
None of this, of course, tells us why he is a saint. These bare facts are the circumstances of his life, and they tell us very little about what he chose to do with the life God had given him.
What Heinrich chose to do was to build up the Kingdom of God within his frail human empire.
He took vows as an Oblate of the Order of Saint Benedict, and is now (together with Frances of Rome) the patron saint of Oblates. Nevertheless, he supported the German bishops in their struggles against the immensely wealthy and notoriously corrupt Benedictine abbeys in Germany at the time.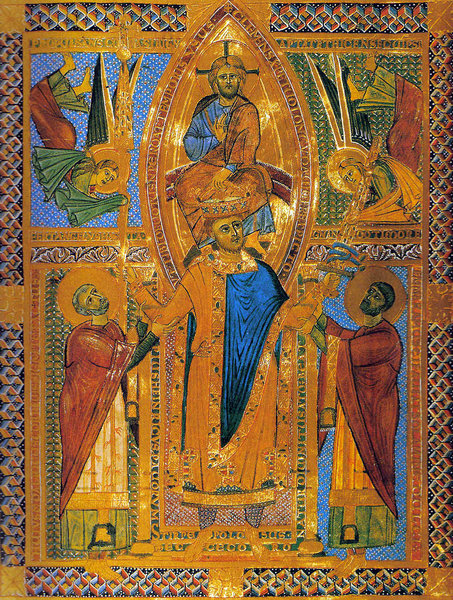 Of course, some of the Bishops and clergy weren't exactly spotless paragons of virtue either, and benefices had become hereditary in many parts of Heinrich's three realms of Germany, Italy, and Burgundy.
To combat this, Heinrich used the full force of his authority to enforce clerical celibacy.
He and his wife, Saint Cunigunde of Luxemburg, endowed many new churches and monasteries. In many ways, he is responsible for the reform movement that culminated in the Church-wide Gregorian Reforms a generation later. Perhaps his most impressive endowment was the creation of the Diocese of Bamberg out of his own personal lands in 1007.
Bamberg grew into a center of scholarship and art in the north, a beacon of culture and learning in the rough-and-tumble wilds of Germany.
He arranged everything relating to the glory or advantage of his empire with the greatest prudence, and left scattered throughout Gaul, Italy, and Germany, traces of his munificence towards religion. The sweet odor of his heroic virtue spread far and wide, till he was more celebrated for his holiness than for his imperial dignity.

At length his life's work was accomplished, and he was called by our Lord to the rewards of the heavenly kingdom, in the year of salvation 1024. His body was buried in the church of the blessed apostles Peter and Paul at Bamberg.

God wished to glorify His servant, and many miracles were worked at his tomb. These being afterwards proved and certified, Eugenius III inscribed his name upon the catalogue of the saints.

(Abbot Gueranger O.S.B., The Liturgical Year)
I first became aware of Saint Heinrich when I worked a marketing contract for the Archdiocese of Seattle Catholic Schools at a former Benedictine church in what was once the Germantown neighbourhood.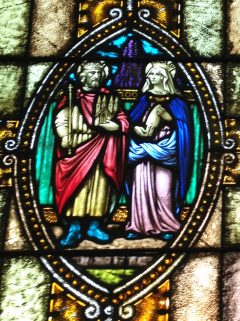 The building has magnificent stained glass windows, and after all this time the identity of some of the saints depicted had become a trifle obscure. We were able (finally) to identify the "king and queen window" as depicting Saints Heinrich and Cunigunde. German? Check. Benedictine? Check.
And many years later, we became parishioners of that same church, Our Lady of the Holy Rosary in Tacoma. Funny how that works.
Today, let us ask for the prayers of Saint Heinrich, that we might use the talents and circumstances that God has given us in His Grace and mercy for the building up of His Kingdom.
O God, whose abundant grace
prepared Saint Henry to be raised by you
in a wonderful way
from the cares of earthly rule
to heavenly realms,
grant, we pray, through his intercession,
that amid the uncertainties of this world
we may hasten towards you
with minds made pure.

Through our Lord Jesus Christ, your Son,
who lives and reigns with you
in the unity of the Holy Spirit,
one God, for ever and ever.

Amen.
The Orthodox venerate Constantine and some of his successors as Saints. A small number of these are also venerated in the West, though they did not rule there. In the West, there are however two beatified Emperors: Blessed Charlemagne and Blessed Charles of Austria.