Pray and work! is the perennial exhortation of the Order of Saint Benedict. However, the motto of the Order, found at the end of chapter 57 of the Holy Rule is "Ut in Omnibus Glorificetur Deus". In English, this is rendered as "That in all things God may be glorified".
The quotation is originally taken from 1 Peter 4:11, where, however, the Vulgate says honorificetur.
The exhortation was originally intended for those who sold the monks' handiwork, reminding them that God should be glorified not only by the monks' labour, but also by the justice of the seller's transaction. However, it has been extended to mean that the labor of every monk should be undertaken in obedience, faith, penance, and prayer so that God might be glorified in all things.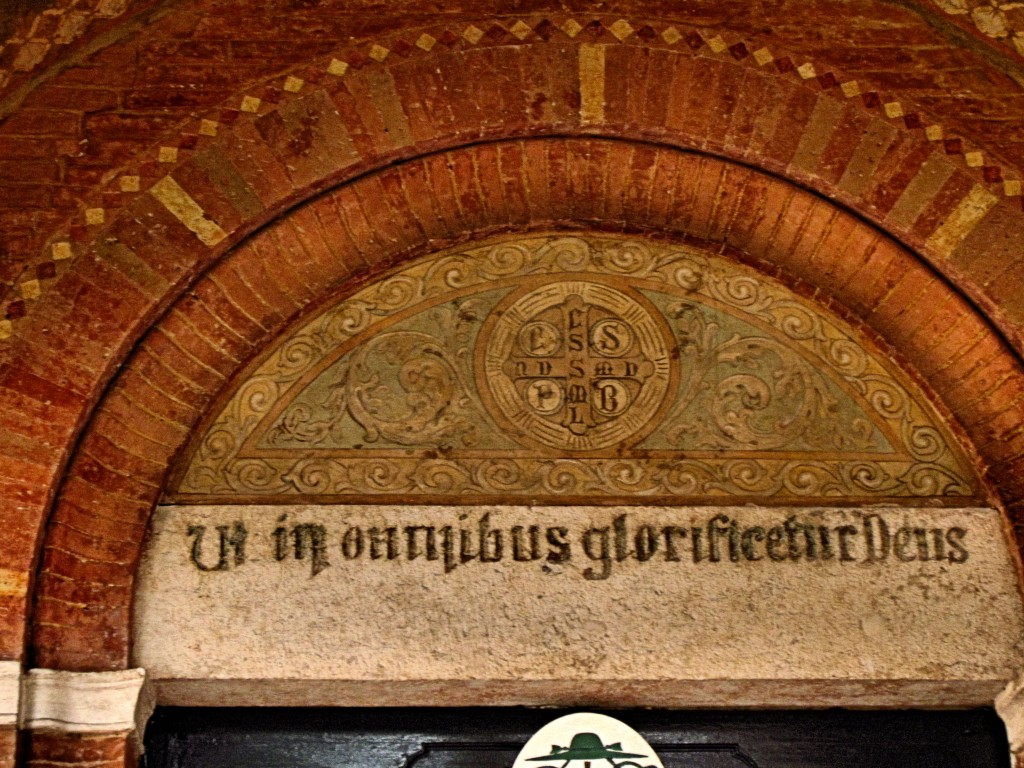 On today's Feast of Saint Benedict, we would do well to remember the Saint's admonition, which became the motto of the Order. Do we do everything we do with great love? Do we do everything we do for the greater glory of God?
And the saint means everything. In another part of the Rule, in speaking of the duties of the monastery Cellarer, he says this:
Let him regard all the vessels of the monastery and all its substance, as if they were sacred vessels of the altar.

(Holy Rule, Chapter 31)
Imagine taking that kind of care with everything you do. Imagine carefully and consciously offering everything you do to God.
Now go do it.
O God, who made the Abbot Saint Benedict
an outstanding master in the school of divine service,
grant, we pray,
that, putting nothing before love of you,
we may hasten with a loving heart
in the way of your commands.
Through our Lord Jesus Christ, your Son,
who lives and reigns with you in the unity of the Holy Spirit,
one God, for ever and ever.

Amen.
---
For those seeking more information on the great Saint and his monks, please take a look at some of the older posts on this blog:
21 March 2017: Benedictine Liturgical Ideals and the New Evangelization (principally a talk given by Dom Benedict Maria Andersen O.S.B.)

11 July 2016: Of Benedict and His Monks (update on various Benedictine monasteries and such)

21 March 2016: A Day in the Life of a Monastery (great video called "Quaerere Deum" on the life of the monks of Norcia)

11 July 2015: Prefer Nothing to the Love of Christ (my favourite readings from the Holy Rule)

21 March 2015: Of Benedict and His Order (update on various Benedictine monasteries and such)

11 July 2014: On Community (a rather lengthy meditation)

21 March 2014: Listen, O my Son

11 July 2013: The Man Who Saved Western Civilization

11 July 2012: (Pope) Benedict on (Saint) Benedict

21 March 2012: Listen

11 July 2011: Towards a New Cluny (essay on liturgical reform)

21 March 2011: Saint Benedict, Abba Poeman, and Amenemope (short thoughts on silence)