Documentary Scriptwriting
At GeoGenius, I was part of an award-winning production team. We produced documentary-style videos that played in tour buses across the United States and Canada. As the bus reached a pre-determined GPS point, a video would play telling the passengers all about the next site on the tour.
These are a few samples of the scripts I wrote and the videos that we ultimately produced from them.
Scripts are PDF; videos open in a new window.
» National Parks Tour: A Spaceport of Our Own Script | Video

» National Parks Tour: Bryce, Briefly Script | Video

» Pittsburgh, PA: Forged in Steel Script | Video

» Pittsburgh, PA: When Rich Guys Fight Script | Video

» Charlotte, NC: From Moonshine to NASCAR Script | Video

» Charlotte, NC: City of Churches Script | Video

» Westport, CT: Saving National Hall Script | Video
In the two and a half years I worked for GeoGenius, I personally researched and wrote more than 160 scripts ranging in length from 30 seconds to 20 minutes.
Manuals and Instructions
Most manuals contain proprietary information. Here are two that don't. These were produced using InDesign and are presented as PDFs.
» National Parks Driver Guide PDF

» Vancouver City Driver Guide PDF
Book Layout
Books should be designed for harmony and legibility; the typography should serve the text. I prefer a clean, elegant design – though the designer in the end must bow to the needs of the book. My chief influences are Jan Tschichold, William Morris, and John Baskerville.
These PDFs are extracts from longer works.
» De Fide and De Spiritiu Sancto PDF

» A Book of Hours (from Volume 2 of 4) PDF

» Oblate Manual (for Saint Martin's Abbey, Lacey WA) PDF

» Douay Catechism of 1649 PDF
Collateral
» Holy Rosary Parish, Tacoma (Welcome) PDF

» Visitation Catholic School, Tacoma (Cliques. Gangs. Apathy.) PDF

» Campaign Mailer (I Love Tacoma) PDF

» Campaign Mailer (Father, Teacher, Planner, Leader) PDF
Role-Playing and Play by E-Mail Games
I am, indeed, a geek. The following samples represent both writing and layout work.
» Cruenti Dei: Sahûl PDF

» Cruenti Dei Rules Supplement 1 PDF

» Cruenti Dei Chronicle, Volume I PDF

» Cruenti Dei: Oratoa PDF
No game is complete without maps, and Cruenti Dei has them in abundance. These represent my typical graphic work. Click on a map to download full-sized PDF.
Warning: These files are big!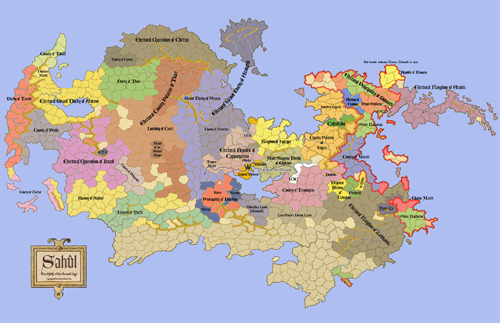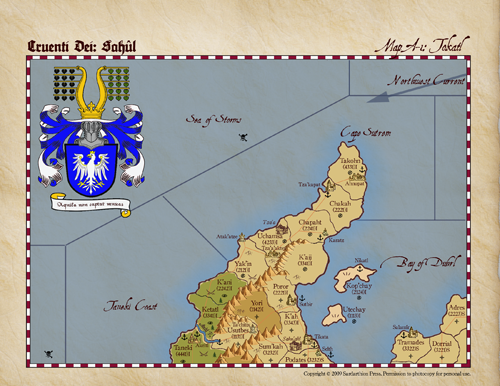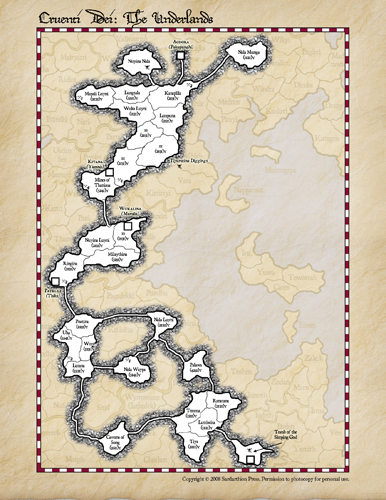 ---