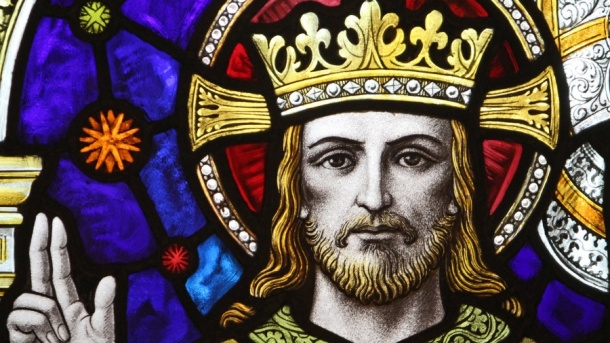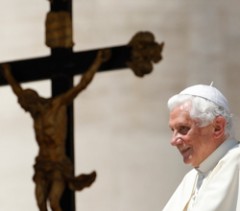 Yesterday, on the great feast of Christ the King, the Year of Faith drew to a close.
Pope Benedict XVI established it as a time to re-dedicate ourselves to professing the faith, celebrating the faith, and witnessing to the faith.
Faith grows when it is lived as an experience of love received and when it is communicated as an experience of grace and joy.

(Pope Benedict XVI, Porta Fidei)
As part of this journey – both inward and outward – the Church was pleased to grant a plenary indulgence.
Each time they visit, in the course of a pilgrimage, a papal basilica, a Christian catacomb, a cathedral church or a holy site designated by the local ordinary for the Year of Faith … and there participate in a sacred celebration, or at least remain for a congruous period of time in prayer and pious meditation….

(Source)
Regardless of any indulgence, my lovely bride Francine and I determined that a pilgrimage would be a good thing for us to do together.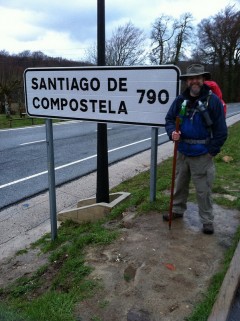 So we dutifully set off. I flew out of Seattle on Easter Sunday, arriving in Madrid (appropriately) on April Fool's Day.
After a long bus trip through Spain and the world's most terrifying taxi ride, I arrived in Roncesvalles.
The next day I began walking: 790 km in 30 days.
Along the way I made great friends, visited some of the most beautiful countryside, prayed in grand cathedrals and in simple stone churches a thousand years old.
I successively fell in love with the land, people, and history of Navarra, La Rioja, Castille, León, and Galicia.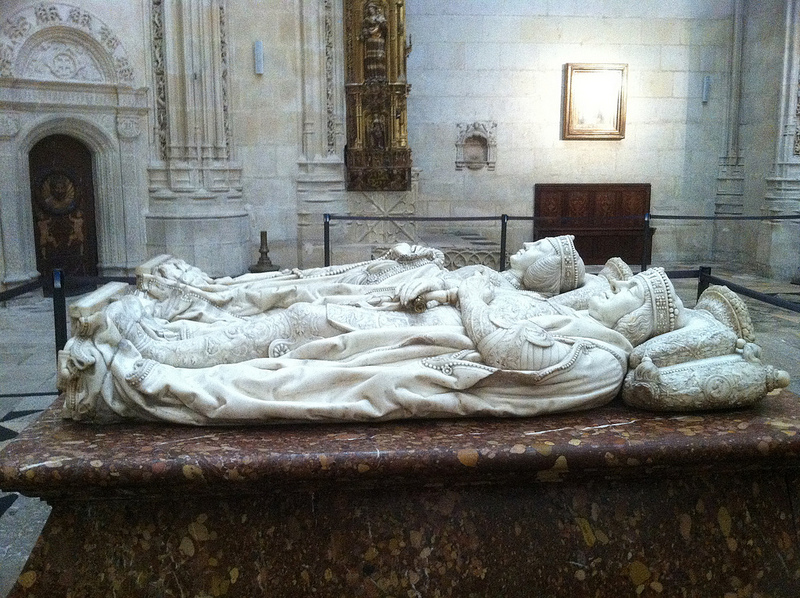 Francine joined me in the great city of León, about halfway into my pilgrimage, and we proceeded together from there.
We are definitely going back. The experience changed our lives, though I've yet to explain it concretely. I've made a start, but there are several books lurking here.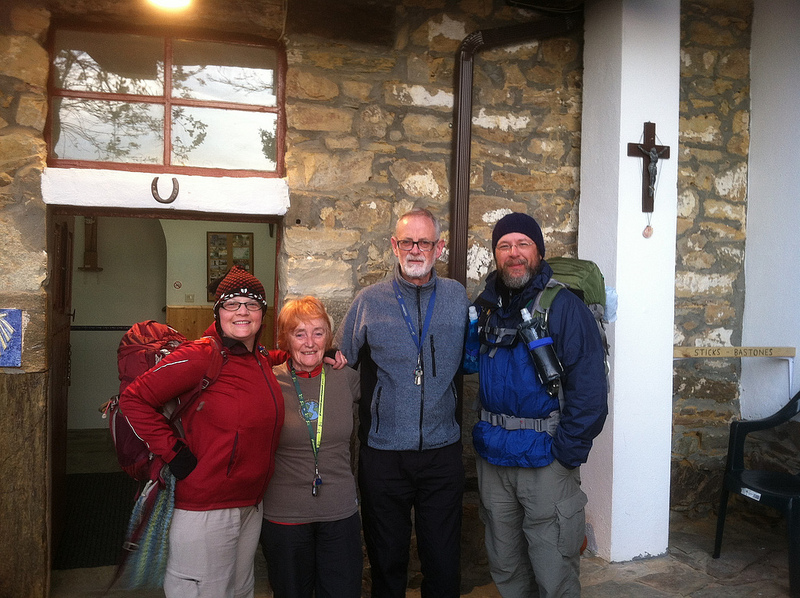 But of course, the very idea of pilgrimage is a sacramental symbol of our life here on earth, our pilgrimage in this world from God and back to Him.
This is an ancient idea.
The Church is an inn, where wayfarers returning to the eternal homeland are refreshed from their journey.

(Saint Augustine)
Our life on earth is a pilgrimage, made up of smaller, overlapping pilgrimages.
Not only did we walk the Camino in Spain, but we also walked in Eucharistic Procession on Corpus Christi, and all within the pilgrimage of this "Year of Faith", just a small slice of our individual pilgrimages through our lives.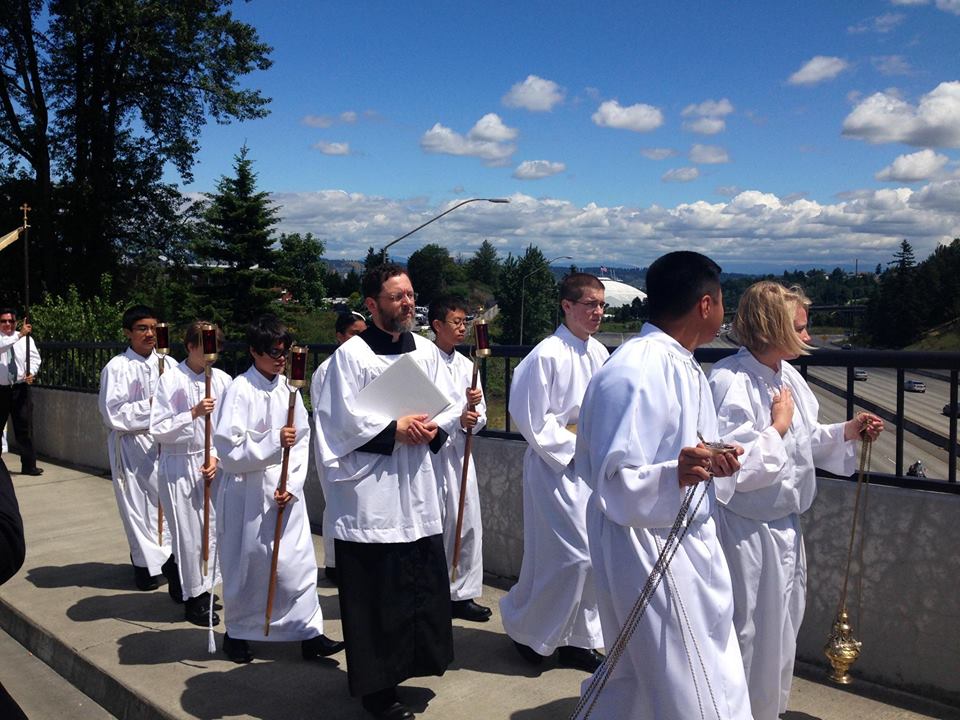 And how does it end? Well, at the end of our lives, we are each of us confronted with the Four Last Things: Death, Judgment, Heaven, and Hell.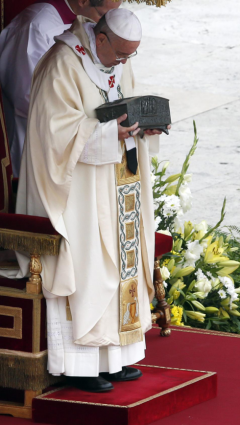 On a smaller, perhaps more intimate and comprehensible scale, our Eucharistic Procession mirrored our lives in beginning in the Lord, walking with the Lord, and ending with the Lord.
The physical object of our Camino was the tomb of the Apostle Saint James in Santiago de Compostela. The spiritual object, of course, is as much the journey as the destination.
As for the Year of Faith? That ends with a new Pope – the 265th successor to Saint Peter – clasping to himself a small casket containing the earthly remains of Saint Peter, the Apostle who received from Christ himself the Keys to the Kingdom of Heaven.
Pope Francis concluded the Year yesterday, Sunday, 24 November, in St Peter's Square, reiterating that the final goal of that pilgrimage is "our full encounter with God".
How did we end our Year of Faith?
After Mass, we celebrated Thanksgiving early. We had a houseful of guests for dinner, including family and friends and our pastor. We ate good food, drank good vino tinto (or beer, tonic, cider, water, coffee, or tea as the occasion demanded), played board games, talked. There was even an impromptu concert with a pair of ukeleles and a fiddle.
A candle was lit in front of our little statue of Jesus as the Divine Mercy.
Pistachio House was transformed into a great feasting hall of the ancient of days.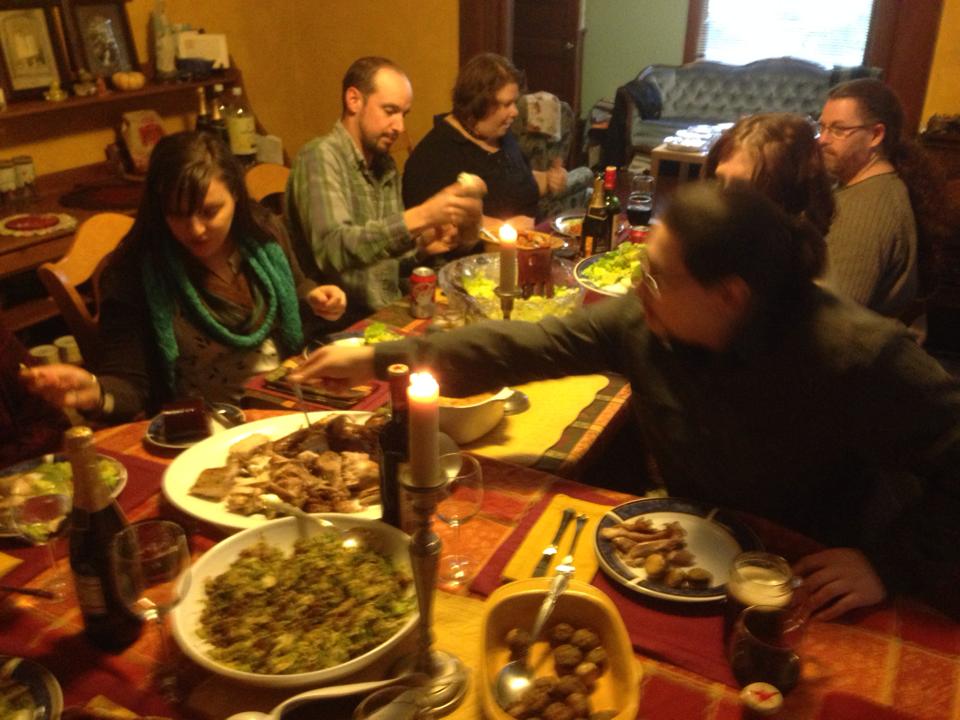 It was very much my idea of heaven. Which only seems right and just.